We have a passion for animals. We care about improving the quality of life of your pets whilst also providing preventive treatments to provide the best care possible.
At Diagnosfera Referral Veterinary Centre we have a team of qualified veterinarians consisting of 6 veterinarians and 3 assistants for the comprehensive care of your pet.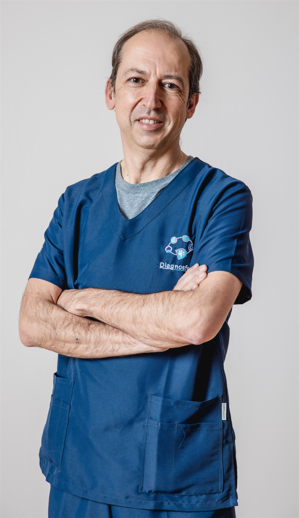 Veterinary Director
Pedro is the head of Diagnosfera, diagnostic imaging, interventional medicine and oncology.
He also runs Cardiosonic, a telemedicine and telediagnosis service. He graduated in Veterinary Medicine from the Complutense University of Madrid in 1991. He holds the AVEPA accreditation in the speciality of Cardiology, the ESAVS Certificate in Cardiology and is a member of GECAR and ESVC (European Society of Veterinary Cardiology) and SERAM (Spanish Society of Medical Radiology).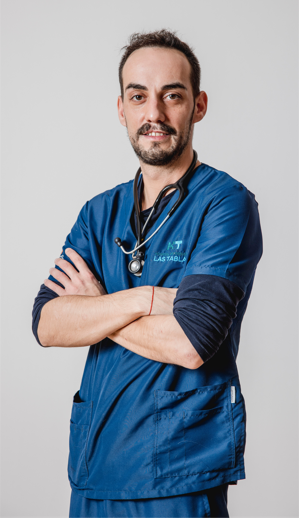 Veterinary
Damián is in charge of the diagnostic imaging department and is a Cat Advocate.
He graduated in Veterinary Medicine from the University of Murcia in 2013 and went on to do an internship in Pavia (Italy), working in a small animal clinic. Since then, he has worked in small animal clinics and hospitals, where he developed a special interest in feline internal medicine and diagnostic imaging. In 2018, he obtained a GPCert in DI by the ESVPS, and is still continuously training by attending courses and congresses in his free time. Outside of the hospital, he is a sportsman, music and nature lover.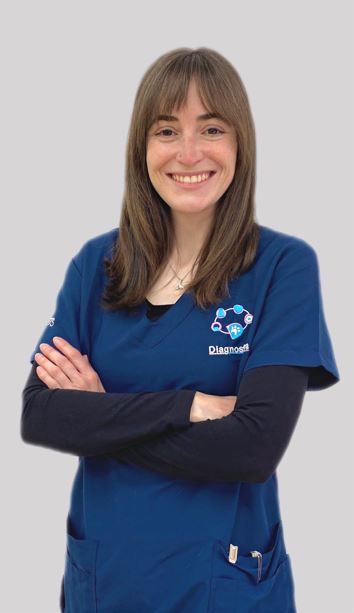 Veterinary
Marta graduated in Veterinary Medicine from the Complutense University of Madrid in 2012.
She collaborated as a student intern in the teaching of the degree: Specialist in Traumatology and Orthopaedic Surgery in companion animals at the Complutense University of Madrid. Subsequently, she completed the Neurology module belonging to the Postgraduate Diploma in Small Animal Clinic at the Autonomous University of Barcelona and in 2020 she completed an Advanced Postgraduate Course in Small Animal Neurology at Neoanimalia of the CEU Cardenal Herrera University. She has worked for more than three years in the internal medicine service of a 24h emergency veterinary hospital in Madrid. She has been part of the Diagnosfera team since October 2015, with special dedication to neurology, diagnostic imaging and internal medicine. Her hobbies are cinema and travelling. She is passionate about getting to know new places and cultures, as well as enjoying a good movie.
Veterinarian Technicians & Assistants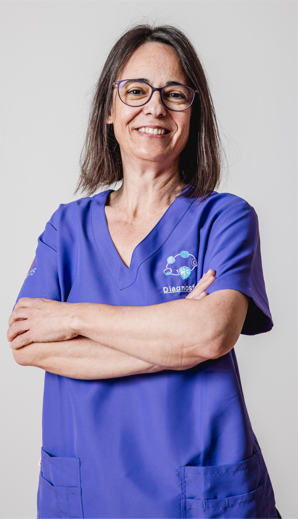 Veterinary Assistant
Sandra's passion for the animal world led her to train as a Veterinary Clinic Assistant in order to be able to work with and for them.
In 2004 she started working in a Veterinary Clinic in the south of Spain. In 2018 she moved to Madrid, where she had the opportunity to join great teams of Veterinary Centres and at the same time continue her professional development. It is true that there are hard moments in this profession, but even so I wouldn't change it for anything. The unconditional love that pets give makes everything possible, there are no limits or prejudices. Over the years, she has learned to be more patient with them. She has a special affection for felines. He finds them so fascinating and mysterious that it is impossible for him not to want to know more about them. So much so that she trained in Feline Ethology to be able to put all her acquired knowledge into practice. On a personal level, she loves to get lost in the countryside with her camera.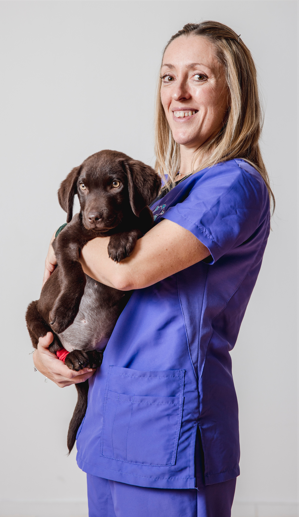 Veterinary Assistant
Mar has been an ATV for 15 years, canine educator and animal-assisted therapy technician.
She joined Diagnosfera in 2013. She has continued training and doing different courses and seminars over the years. She also collaborates with shelters as a dog and cat sitter, which has helped her to gain experience in handling them and difficult situations. She considers helself a dynamic, responsible and resolute person with a continuous desire to learn.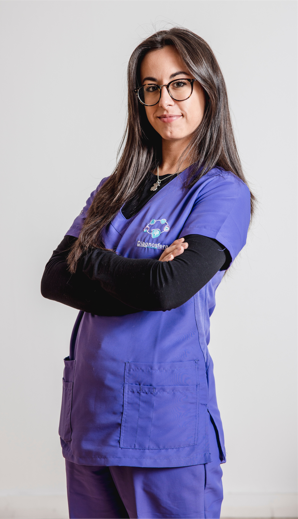 Veterinary Assistant
Patricia is a Veterinary Technical Assistant at Diagnosfera. She studied at ESSAT, located in Nuevos Ministerios, Madrid.
As soon as she got her degree she started working as a VTA and has been working in this profession for almost four years, where she has specialised in surgery. She has been working at Diagnosfera for a year and a half until today, where her main function is as a surgical assistant.