Advanced soft tissue and vascular surgery
Diagnosfera Referral Veterinary Centre, based in Madrid, we have a pre-operative and operating theatre equipped with anaesthetic equipment, monitoring, advanced equipment and qualified staff to safely supervise all patients.
At Diagnosfera Referral Veterinary Centre, to ensure the health and well-being of patients, routine and less common surgeries are performed at our centre. We are proud of the team of experienced, animal-loving professionals who are available to help you with your more complex cases.
Surgical Services
Collaboration with external surgeons such as Dr. Stefano Nicoli as an expert in thoracic, endocrine pathology, nephrology and urinary tract surgery.
Harmonic ultrasound scalpel equipment.
Diode and Co2 laser.
Equipment specialised in Brachiocephalic Syndrome.
Minimally invasive surgical techniques such as laparoscopy and thoracoscopy by external collaboration.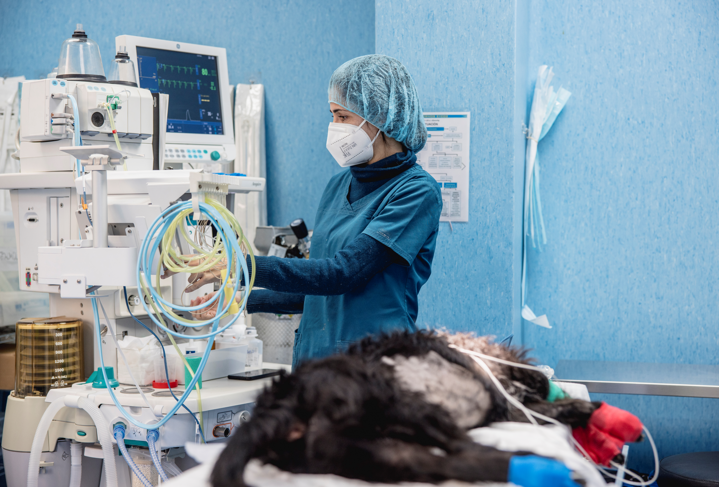 Having specialists in different areas means that we can count on the collaboration of specialists in soft tissue and vascular surgery at European level.
This allows us to deal with cases ranging from portosystemic shunts, adrenal neoplasms even with vascular invasion, to complex neoplasms such as insulinomas and others that require specialised personnel and equipment, such as the ultrasound harmonic scalpel, the radiofrequency associated with this scalpel, the Diode and CO2 laser and the guided embolisation of certain tumours.
Its use also in the approach of the Brachycephalic Syndrome Unit makes it very useful from the precise diagnosis of the pathologies that affect the patient to being able to offer a broad resolution of cases and pathologies that result in many cases in a greater and better quality of life for the patient.