Diagnosfera is a Reference Center of specialties with special dedication to Cardiology and interventional procedures, valvuloplasties, pacemakers, Amplatzer and Holter, led by Pedro Esteve, a reference in Cardiology.
Cardiology is the medical specialty dedicated to the study of heart disease and the repercussions that other systemic diseases can have on this organ.
Our dedication to Cardiology covers the entire field of diagnosis and medical and surgical treatment, including support by telemedicine systems to other centers through the interpretation of Electrocardiogram and Radiology; Holter; Color Doppler Echocardiography, analysis of specific cardiac biomarkers such as the determination of D-Dimer for the assessment of thromboembolism and Troponins and Nt ProBNP in cases of severe cardiac emergencies.
The image quality of General Electric's Vivid i equipment in cardiology allows high levels of diagnostic accuracy that can be increased even with the performance of transesophageal echocardiography.
Echocardiography is a diagnostic technique to "see" the structures of the heart atraumatically, safely and in real time. It allows us to assess the different structures and their function, important for measuring hemodynamic and myocardial function. The Doppler technique allows us to quantify valve function data and obtain a more accurate diagnosis.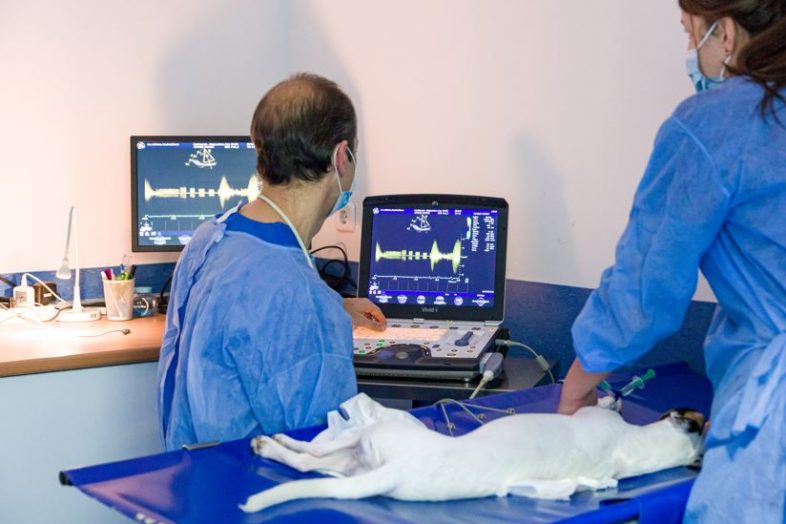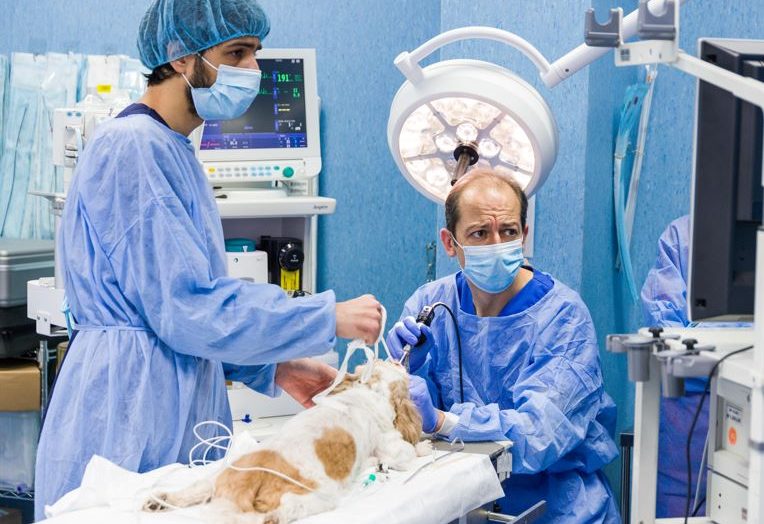 Thanks to the use of interventional radiology, vascular studies can be performed and organs can be accessed by minimally invasive techniques.
These techniques, widely developed in human medicine, have multiple applications in veterinary medicine:
Performing cardiac interventions
In our Center, we are also a Reference Center for advanced diagnostic and treatment techniques such as catheterization with complex techniques such as pulmonary and aortic valvuloplasty and closure of Patent Ductus Arteriosus (PDA) by Amplatzer device, and pacemaker implantation, with more than 300 interventions performed in recent years.
In the case of Patent Ductus Arteriosus, this technique allows the closure of PDA, a severe congenital heart disease, by means of catheterization, thus avoiding the conventional surgical intervention that involves more risk in the intervention and a more painful postoperative period for the animal.
Pacemaker implantation is indicated for those cases in which the electrical function of the heart is severely altered. Most of the cases can be implanted by vascular route, avoiding thoracic surgeries and keeping the battery "hidden" under the subcutaneous tissue. It is a technique that also requires sophisticated instruments and equipment such as an external pacemaker that provides stability and greater safety during the intervention and the anesthetic procedure.
Telemedicine: In addition, we offer Telemedicine service for clinics and centers that request it, even with the deposit of the latest generation of ECG equipment to be sent by mail to our Center.
Interventional radiology also allows the implantation of stents at tracheal level for those severe cases of tracheal collapse in which the studies indicate its clinical benefit, as well as in other locations of stenosis such as in the urethra; or in vascular pathologies, such as the closure of portosystemic communications and in the embolization of neoplasms.