At the Castaños Veterinary Clinic, we are equipped with cutting-edge veterinary technologies, enabling us to offer outstanding care to all the cases we treat.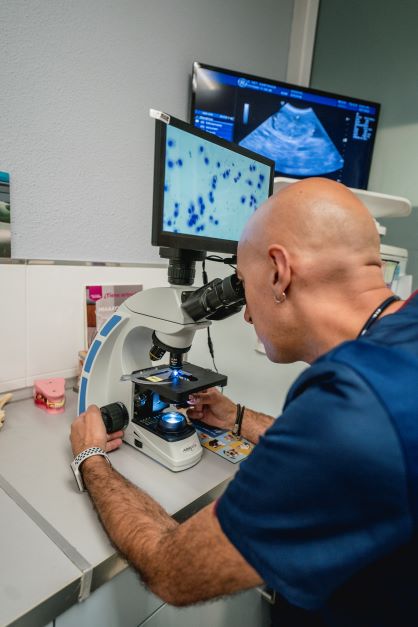 The centre has state-of-the-art analysis equipment, ultrasound, direct digital radiology, anaesthesia equipment with assisted ventilation incorporated with a mixture of gases and sevofluorane and isofluorane. The clinic also has a grooming service, provided by a highly experienced professional, who works exclusively at our clinic throughout the week. A specialist also attends the clinic one day week to provide physiotherapy and rehabilitation services. An external echocardiography specialist also visits the clinic once a month, enabling us to offer pets a full range of services.
The clinic has a fully-equipped operating theatre including an endoscope, electric scalpel, inhalation anaesthesia equipment etc., which allows us to perform all types of surgery.
Our equipment includes:
Ultrasound scanner with innovative harmonic technology that allows us to obtain a clearer image for the diagnosis of different pathologies in the various internal organs;

High definition digital radiography equipment providing instant, high quality images;

Surgery with a fully equipped operating theatre that allows us to perform everything from general internal surgery to specialised surgery.
Laboratory: including haematological analyser, biochemical analyser, 3 microscopes (one specifically for cytology), centrifuge, urinalysis equipment and refractometer for body fluids, as well as an extensive battery of snap tests that allow us to obtain quick results and treat your pet effectively.